Marsh Brothers Expands Their Maintenance-Free Product Line to Beechcraft® King Air® Family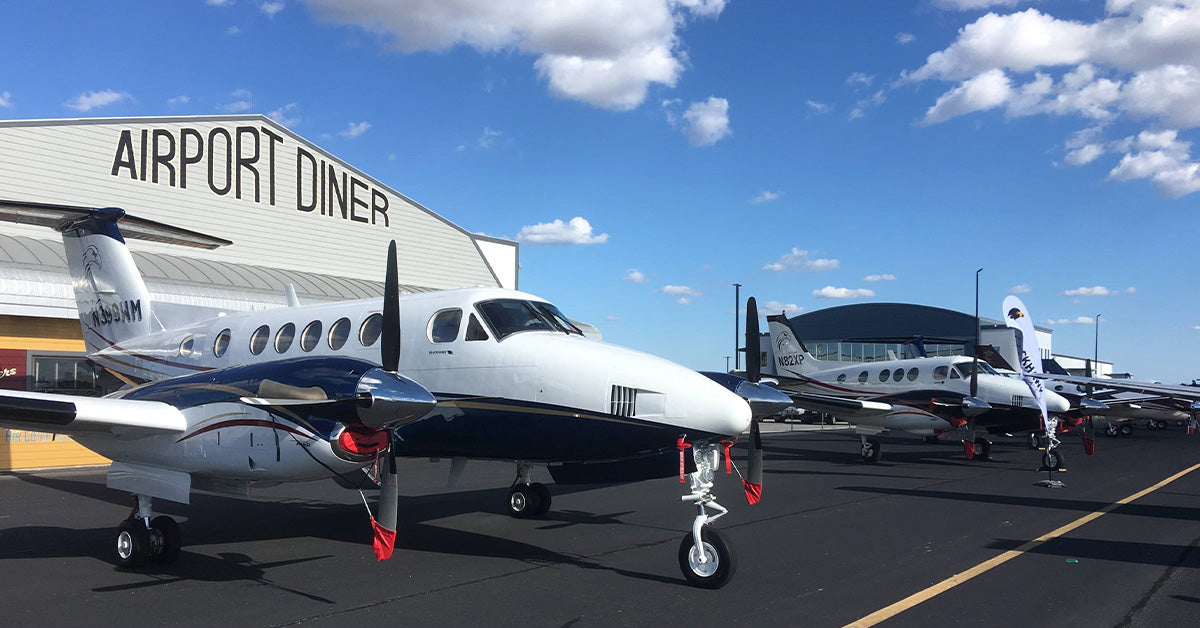 Marsh Brothers Aviation, the Burlington, Ontario based company known for their hydraulic seals and grease-free polymer bearing solutions in the General Aviation market, have expanded their product offering to the Beechcraft® King Air® family.
One of the first Marsh Brothers products available to King Air® aircraft are the AeroTough® GF (Grease-Free) non-metallic Fuel Cap Washers. Made from a proprietary polymer, these washers make opening and closing the fuel cap much easier and ensures that it will remain safe and functional.
"It was a natural progression," said Nicholas Choo-Son, Director of Business Development at Marsh Brothers Aviation. "Since we introduced the fuel cap washer for Aerostar, Beechcraft Bonanza and Baron aircraft, we have seen steady demand. It is something that seems small, but every pilot or ramp refueler we have spoken to loves it because it eliminates the typical winter difficulties opening and closing the fuel cap—we've heard that it saves their fingernails and that they no longer need a screw driver to pry it open or a rubber mallet to close it."
While seeking Parts Design Approval for the fuel cap washer for King Air, Marsh Brothers took the opportunity to add two popular Gabb fuel cap models to their product line as well that are fully approved for King Air, Beechcraft 1900, Bonanza, Baron and Aerostar.
Another Marsh Brothers product now available for King Air is the NLG Door Hinge kit. This kit provides a preventative maintenance solution that will ensure King Air aircraft will never experience complications with seizing or excessive wear of the nose landing gear door hinge bushings that traditional metal bushings often exhibit.
"We became aware of the problem being experienced with the OEM door hinge bushings from two sources in the community. One mentioned that the doors were flapping as the aircraft taxied down the runway," said Choo-Son. "Our experience with the Baron and Bonanza product lines put us in the perfect position to offer a solution to a known problem to the King Air quickly."
Sandy Thomson, Founder and Innovator at Marsh Brothers Aviation added, "While new King Air models have been certified over the decades, the basic hydro-mechanical system remains traditional—greased metal bushings, metal landing gear shock strut bearings and O-ring dynamic seals. What Marsh Brothers Aviation offers the King Air community is the opportunity to upgrade existing airframes to take advantage of engineered self-lubricating polymer bushings, non-metallic landing gear shock strut bearings and polymeric V-seals."
After attending the King Air gathering IV in 2019, Marsh Brothers Aviation established some important relationships in the King Air Community that continue to grow. One such connection is Stevens Aerospace and Defense, who is now an authorized distributor and installation specialist for Marsh Brothers Aviation products.
"Entry into the King Air market is a significant step for Marsh Brothers Aviation because it marks our entry into commercial aviation," said Choo-Son. "This is an important milestone for us. Commercial operators, whether it's a scheduled or an on-demand flight must be able to dispatch the aircraft when it needs to fly. The self-lubricating/maintenance-free benefits provided by our products, directly contributes to this, as well as reducing maintenance costs over the life of the aircraft."
Other King Air products on the horizon from Marsh Brothers include the brake master cylinder repack kit with AeroTough GF gland and lip seal, grease-free flap rollers, and the MLG Oleo kit with light-weight polymer bearings and lip seal. These products were specifically selected based on known issues associated with maintainability and reliability in these applications.
With innovation part of their corporate mission, Marsh Brothers Aviation will continue to develop new products for the King Air Market in order to solve other known maintenance issues by using their grease-free non-metallic polymer bearings.
Leave a comment
Comments will be approved before showing up.