POLYMER LANDING GEAR BUSHINGS CHALLENGE AVIATION'S STATUS QUO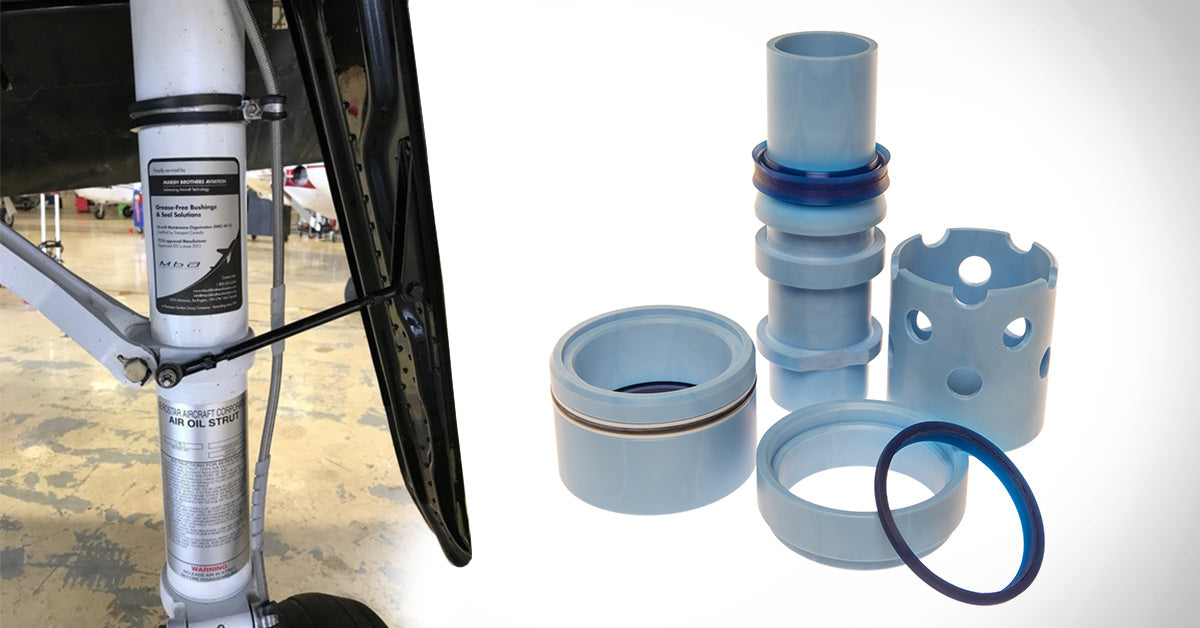 (July 19, 2018)
After 460 hours of test flying time, AeroTough GF non-metallic landing gear bushings on the C-GUTY Aerostar were removed and inspected in Brantford, Canada where remarkably - there was no measurable wear and no grease was used.
The elimination of greased bronze bushings in landing gear applications is a first for the industry. And it is fitting that this pioneering discovery happened in Brantford, Ontario, the home of "The Great One" Wayne Gretzky and Alexander Graham Bell's first North American home.
"The General Aviation (GA) industry has always utilized bronze bushings in landing gear applications which meant continual greasing for lubrication and corrosion prevention," said Nicholas Choo-Son, Director, Business Development at Marsh Brother Aviation, the Canadian-based manufacturer of AeroTough GF polymer bushings.  "Greasing maintenance takes time and can be costly.  This polymer material can revolutionize the aviation industry and eliminate grease in landing gear forever."
In 2017, Marsh Brothers Aviation achieved Transport Canada and FAA STC approval for complete Aerostar aircraft landing gear grease free bushings.  AeroTough GF does not require greasing over its operational life as the lubrication is built into the polymer formulation.
Marsh Brothers Aviation developed the proprietary alloy, AeroTough GF exclusively for aircraft applications where historically, greased metallic bushings have been used.  The polymer science behind the material began with the Thomson-Gordon Group, a manufacturer of polymer bearings, seals and engineered mechanical components for diverse global markets since 1911.
George A. (Sandy) Thomson, Innovator at the Thomson-Gordon Group says: "Creativity and advancements at Marsh Brothers Aviation are driven by the need for practical solutions of real world problems.   The performance of the AeroTough GF bushings on the Aerostar has proven that greasing can be eliminated, weight is saved, maintenance costs can be greatly reduced and safety can be enhanced.  This milestone has the potential to impact the design of all landing gear of the future." 
Further testing of AeroTough GF continues on other aircraft as there are broad opportunities to refit designs into many existing GA aircrafts including Beech Bonanza and Baron, King Air, Aerostar, light jets and eventually transport class airframes.
About Marsh Brothers Aviation
Marsh Brothers Aviation is part of the Thomson-Gordon Group, a manufacturer of bearings, seals and engineered mechanical components for diverse global markets since 1911. This connection provides access to superior engineering, manufacturing and state-of-the-art R&D facilities that encourage innovation and the delivery of high performance products and quality service.  Marsh Brothers Aviation brings the expertise of the Thomson-Gordon Group to the aircraft industry with a focus on the innovative development and supply of high performance parts and service, initially to general aviation aircraft, but with the intention to expand into the transport category aircraft market.
For further information:
Jeff Tennebaum, Marketing
E-mail: jefft@marshbrothersaviation.com
Tel: (905) 335-1440 ext. 258
3225 Mainway
Burlington, Ontario   L7M 1A6  
CANADA
Leave a comment
Comments will be approved before showing up.