Shaw Fuel Cap Washers: How Communication Leads To Innovation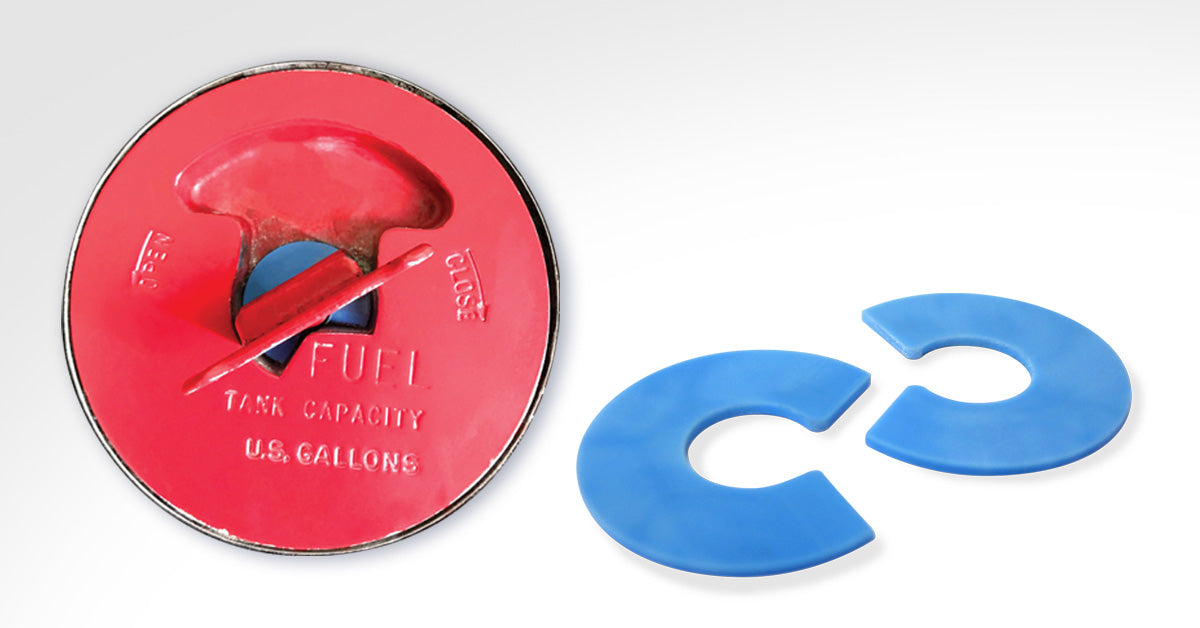 It was a late September afternoon in St. Paul, Minnesota in 2017. A white airplane taxied in to the ramp and shut down as I watched. A man who was much too tall to be comfortable in that small cockpit, climbed out and walked across the ramp towards me.
The man's name was Bo Dugan, he introduced himself to me, but I knew exactly who he was. He had purchased a set of throttle knobs from me for his airplane and had some feedback about the design. He thought they should be made closer together.
Bo then said something else that really got my attention. "I'll bet your non-metallic AeroTough material would make a great thrust washer for the Fuel caps on many general aviation aircrafts…. Mine have always been a hassle to open and close".
Ideas and innovation can come from anywhere. They might be yours, a customers, a suppliers or a friend. Nobody has a monopoly on ideas for how to make things better.  If we think new product ideas are always going to be home-grown; we're wrong. Innovation is all about communicating your ideas to others.
"Bo, I have had trouble with these cap mechanisms since I owned my first Bonanza. This is a brilliant idea and I'm going to make three and try them".
Much tougher than Nylon or PTFE, AeroTough is a polymer developed by Marsh Brothers Aviation exclusively for aircraft and aerospace applications. Most Marsh Brothers applications are in landing gear systems and flaps where the operating environment demands a durable, tough material.
To make a part for a fuel cap seemed almost trivial, yet every pilot who flies a Bonanza or Baron knows what I'm talking about. The OEM Shaw cap has a stainless-steel thrust washer that bears the force of the locking cam. There's one friction force if it's lubricated and another if it's dry. Pilots and line service people have broken finger nails, used screw drivers and other means to open and close these otherwise beautifully designed caps. We knew that there had to be an easy fix, and voila, there it is!
The next day I flew home to Brantford, Ontario and was in my basement shop machining the first three prototypes.
My wife Marianna is my one-woman finishing department. And in no time, it was out to the airport for a trial the following Sunday. I knew they would work but I needed proof.
The caps on my airplane have now been on and off more than 200 times with these washers fitted and the opening and closing forces are always the same. As far and I can see there is no wear on either the cam or the washer.
It's probably the simplest aviation product we've ever made, and might be one of the best. And it wasn't even my idea, I just listened to a customer.
Along with listening to the people around you, whether it be a customer or a fellow employee, people need to dream of what could be rather than what is. I frequently hear the word, "reverse engineering" and right away think, what a fancy way to say copy. There are lots of people that work this way, because it's the easier way to make a product, while others do it for other reasons. But it's not something I have done or will ever do. For me, it's easy to look at a bearing or a seal that was made or designed by someone else and start imagining how we can make it better.
I have had a lifetime of experience making things that I think work better and sometimes they do while other times they don't. Though, I can honestly say, it's usually the former. I always start with a prototype, then quickly move on to drawings. I try and make these prototypes as quickly as possible to begin the testing cycle, as there is no replacing time. That means building a test rig which takes time, however in many instances we use real applications such as vessels or airplanes. Marsh Brothers' sister company that make similar products for the marine, hydro and industrial markets have been doing this for years; however as you may know, it's tougher with airplanes due to certification rules.
Finding a way to make something better and making it happen is the fun part for me. Although the end result is important, the journey is what gets me excited. My dad was an artist and I started out as a musician, so being creative has always been in my blood.
In the aviation world, I have owned over a handful of different airplanes but they all had something in common, they all could be made a little better if we start working together more.
Leave a comment
Comments will be approved before showing up.